EEEKCarlyn Yandle and Burrard Arts Foundation Illuminate the Haywood Bandstand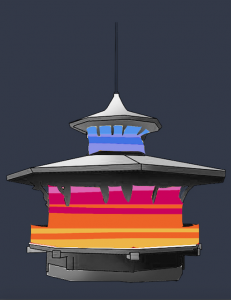 Are you excited for the 2015 Lumière Festival yet? One by one, lighting installations are popping up around the neighbourhood. The latest is Carlyn Yandle's "Lighthouse" which was installed today in partnership with the Burrard Arts Foundation.
In the eyes of Carlyn Yandle, the architecture of the Alexandra Park heritage Haywood Bandstand (erected 1914) enables the structure to be transformed into a large-scale lantern. A striation of hot-hued fabrics evokes sunsets seen from that vantage point, providing visual heat during the dark, grey months.
"Lighthouse" offers two ways to enjoy a unique visual surprise. From the viewpoint of a passing vehicle, the structure appears as an entirely new, yet familiar object on a grand scale, an intervention of a local landmark. From the viewpoint of a park user, the installation reveals itself as a fibre cocoon.
This work connects to the understanding that light is integral to human wellness. Working with the size and location of the bandstand above English Bay, this work aims to evoke all the connections of a 'lighthouse' or beacon (of hope). That inherent 'hope' is emphasized in the layers of hot hues of a summer sunset: the promise of the return of long, warm evenings a]er the bleak mid-winter.
Carlyn Yandle is a B.A graduate of Emily Carr University of Art + Design. Her painting, sculpture and public artworks draw on her various 'making' skills as well as two decades as an award-winning newspaper journalist.
The 2015 Lumière Festival kicks off on Friday, December 11. For more information, click here.