EEEKGeorge T. Cunningham: An Early West End Entrepreneur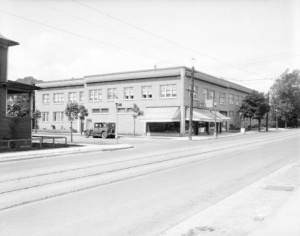 George Torrance Cunningham was born on an oxcart trail in North Dakota in 1889. He was an apprentice druggist at Woodward's Department Store and a graduate of the Ontario College of Pharmacy.
At age 21, in February 1911, he opened his first Cunningham Drug Store at Denman and Nelson (998 Denman). A year later, the Vancouver Public Library selected Cunningham's Drug Store to be one of its first four branch libraries in Vancouver.  Before long Cunningham's Drug Stores dotted the West End. Cunningham died in 1965 and in 1971 Shopper's Drug Mart purchased the Cunningham chain of 100 stores in British Columbia and Alberta.
George Cunningham served on Vancouver City Council and was Chair of the University of British Columbia Board of Governors.
Today there are concrete reminders of Cunningham's contribution to the West End.
—Janet Leduc, Kinexus Consulting, Community Journalist & West End Resident. Images supplied by Lea Chambers and the UBC Digital Archives.