EEEKLips Resto to Reopen as Village Bistro
Village Bistro is set to open its doors on Saturday, October 3. Formerly known as Lips Resto, the concept has been reimagined by the original owners to serve as a casual West End staple. The new restaurant will offer bistro-style comfort food with Canadian flavours, and a menu entirely made-from-scratch.
Lips Resto opened in May 2015 following a $1-million conversion of an all-you-can-eat sushi restaurant. The concept of sophisticated sharing plates with international flavours missed the mark, and it was quickly learned that the neighbourhood craved honest, unpretentious food. The restaurant closed its doors in September and behind papered windows Village Bistro was born.
In creating his new menu, Chef-Owner Curtis Demyon, formerly executive chef at The Fish House in Stanley Park, has channeled his Canadian heritage. With his prairie roots and extensive experience with West Coast seafood, he channels the country's rich flavours.
​With unwavering commitment to quality ingredients, guests can still ​expect great value with hearty entrees all priced under $20. Here a sample…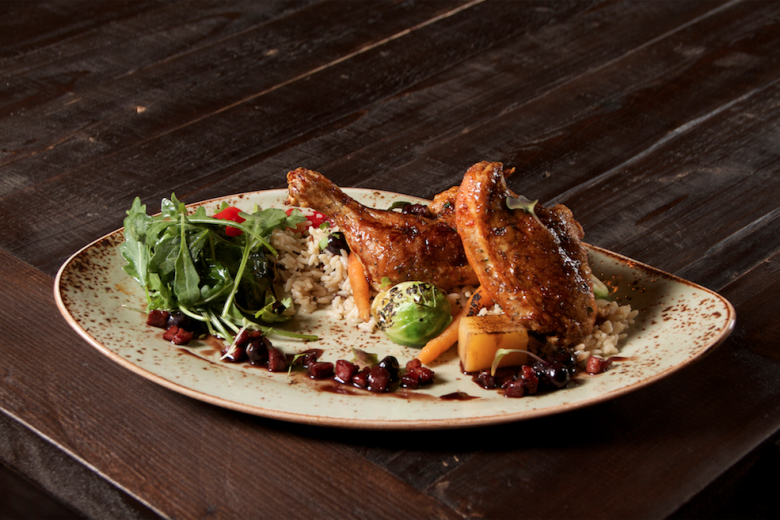 Herb roasted Fraser Valley Chicken, Saskatchewan wild rice and bacon pilaf, roasted root vegetables, blueberry jus.
Beef Short Rib, Roasted cauliflower, brocollini, Alberta barley risotto, blue cheese, natural jus.
Hungry yet? The 100-seat room, created by Sheffield Design Studio, evokes old-world bistro charm with modern industrial accents. Comfort is key with custom-made caramel leather chairs, rich wall coverings, and warm lighting installations. A wall of sliding windows opens to connect to the energy of Davie Street.
Village Bistro is located at 1143 Davie Street and will be open for happy hour and dinner 7 days a week. Brunch service will begin in November. Reservations can be made on their website. Get social on Facebook, Twitter, and Instagram.