EEEKStefan Zubovic's "Glowing Wall" to be unveiled at King George Secondary
The Glowing Wall was undertaken by King George alumni Stefan Zubovic. While attending the high school Zubovic noticed many people strolling Denman weren't aware of the school's existence. He wanted to create a lighting installation which would draw the eye to the school and add a vibrant and dynamic dimension to its exterior. It would also help commemorate it's 100 year anniversary.
The school's 144 LED Glowing Wall aligns with other lighting installations downtown and is the most recent move aimed at making the West End BIA's Decorative Lighting Vision for the West End a reality.
"It is our school's version of BC place. Displays will change with different holidays, community events, and other things," says Zubovic.
After over a year of work and the drafting of over 60 funding proposals, Zubovic heard back from three community stakeholders, West End BIA, Hollyburn Properties and the Burrard Arts Foundation. Each stakeholder committed to help fund the cost of the materials to create the installation.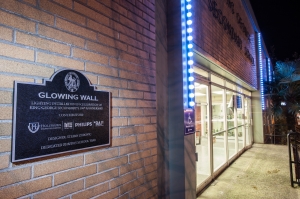 The King George Secondary School and its partners welcome area businesses to join in the short event to unveil this new lighting installation.
Event Details
Where: King George Secondary School (on Denman Street)
When: 9:30am, Thursday, February 26, 2015.