EEEKTales from the West End: Creating Community with Stories
Every third Tuesday of the month from 6:30pm to 8:30pm, JJ Bean Coffee Roasters hosts an evening of community storytelling in Vancouver's West End. The event takes place in JJ Bean's new location within the recently restored 1930s heritage building formerly known as "Maxine's Hideaway" at the corner of Bidwell and Davie Streets.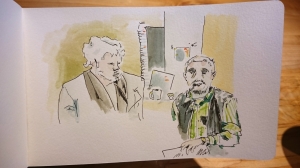 What was intended to be a one time evening has turned into a monthly gathering.  "Tales From the West End" which began with a grant from the Vancouver Foundation is continuously evolving. When asked why JJ Bean hosts this evening, Manager August Pierik says, "It brings tons of traffic through our cafe on a Tuesday evening. We want to be a community gathering place and this event brings the community together, young and old, long time residents and new comers."
On February 17, approximately 50 people gathered to tell, sketch and listen to stories about the West End. People start arriving before 6pm to get a good spot, enjoy a complementary coffee or tea and meet up with new and old friends.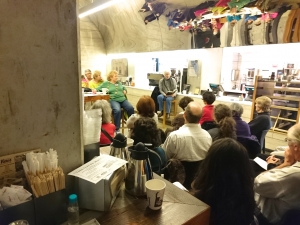 Michael Kluckner ends the storytelling with stories from his book, "M.I. Rogers". Mrs. Rogers, wife of Rogers Sugar founder, Benjamin T. Rogers played second violin in the Bach Choir, busied herself with works of charity, entertained and gossiped with her friends. This was a time when women in her circle of friends addressed each other as Mrs., were never on a first name basis and spent very little time with their children. Her husband twenty-five year old Benjamin T. Rogers arrived in Vancouver with very few resources and in 1918 became the second richest man to die in BC before 1940.
When the family built their first home in 1890 at the corner of Georgia and Cardero, the water connection permit cost $1, a bathtub permit cost 50 cents and a water closet toilet cost 25 cents. At that time few people could afford more than the water connection permit. As their family grew and Rogers prospered, he bought 5 lots on Davie as a Christmas gift for his wife. The home he built, known today as "the Rogers' Mansion" and "Gabriola House" covers the whole Davie Street block between Nicola and Cardero.
The story telling comes to an end and there is another half hour to talk to the storytellers, admire the sketches and continue the conversations. JJ Bean is closing for the evening but people still linger. There is a feeling of familiarity in the room, as one person remarks "I really do enjoy the stories and the warmth in the room. There is a distinct feeling of community".  Many will come back next month.
— Janet Leduc of Kinexus Consulting, Community Storyteller and West End Resident. Illustrations by Lea Chambers.