EEEKThe Future of the West End: Gabriola Mansion is For Sale
Gabriola Mansion located at 1523 Davie Street in Vancouver's West End is for sale for $10,000,000. This is an opportunity for an individual, or a group to purchase the site and restore it to its original magnificence.  If you are interested in exploring this further contact Joe O'Brien Sales Representative for CBRE at 604.662.5124 or joseph.obrien@cbre.com
The Mansion is treasured by the West End community.  
The Gabriola Mansion has been empty for a number of years and the community is concerned about vandalism and further deterioration. More importantly the community sees a significant opportunity to create a special place for the Mansion in the community. During the West End Planning process, the community suggested many potential uses for the building including, a library, an art centre, a community centre and a museum.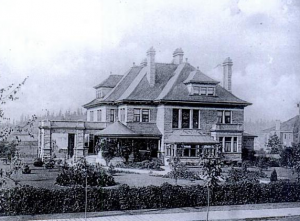 The Mansion is one of the most historically significant buildings in the West End.
In the early 1900s, the West End with its grand Victorian mansions was known as "Blue Blood Alley".  Designed by the famed architect Samuel Maclure, The Gabriola Mansion was known as the most lavish and opulent home ever constructed in British Columbia. Today Gabriola is one of two remaining West End mansions from that period.  It is listed as an "A" heritage building on the City of Vancouver's Heritage Register and is a designated building. A designated building cannot be demolished, but It does not stop it from deteriorating.
The Mansion is in a very prominent West End location.  
The grounds, gardens and Mansion cover the entire block between Cardero and Nicola streets on Davie Street. The Gabriola Mansion is the focal point of Davie Street  providing a sharp contrast to the businesses and apartment buildings. The prominent location highlights the Mansion as a valuable community resource.
—Janet Leduc, Kinexus Consulting, Community Journalist and West End Resident