EEEKThe West End Named Greatest Neighbourhood in Canada
For the past three years, the West End BIA has been working hard on advancing our brand message of Three Great Streets, One Amazing Neighbourhood. National recognition both celebrates and validates this work. Ensuring that the West End has vibrant commercial streets (Davie, Denman and Robson) is a driving force for the West End BIA. Partnerships with the Gordon Neighbourhood House, West End Coal Harbour Community Policing Centre and the City of Vancouver's Keep Vancouver Spectacular program serve to keep the neighbourhood streets clean and safe. We partner with Vancouver Pride, Honda Celebration of Light, Car Free Day West End, EVO Summer Cinema Series and the Lumiere Festival Society to animate our three great streets throughout the year.
"Spectacular English Bay beach, a backdrop of majestic North Shore mountains, tree lined and foliage rich streets, an elegant blend of heritage and modern buildings, lively commercial areas, parklets and roundabouts, dedicated cycling lanes: welcome to Vancouver's West End…"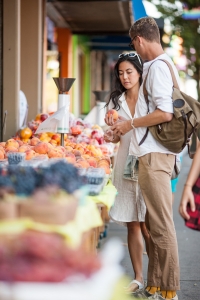 The Vancouver Sun reported that Jaspal Marwah, one of the competition's seven jurors, noted that the West End was chosen because the area is safe and inviting for residents to walk and bike to work, to access local businesses and to explore Vancouver's beaches, trails and Stanley Park. He also cited the neighbourhood's diversity of residents, transit access, treed promenades, pocket parks and public spaces as examples of what make the neighbourhood a great place to live.
We couldn't be more delighted, and would like to thank all of the amazing citizens, community groups, businesses, and event organizers that make the West End such a fantastic place to live, work and play.
To learn more about the award, check out the fantastic write-up on the Great Places in Canada website.