EEEKWE Arts Pop-Up Gallery at Times Square Suites Hotel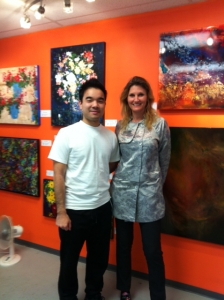 WE Arts organized their first ever Pop-UP Art Exhibit in an empty retail space at 779 Denman Street from August 22 to August 31, 2014. A Pop-Up Art Exhibit is a moment in time that gives the community an interesting experience of the arts. WE Arts wants to connect community with the arts and make the West End more attractive and appealing by showcasing paintings and sculptures. From the opening reception, with overflow crowds lining up outside, to the closing weekend, the exhibit attracted over 800 people.
Jacqui McMullen, the General Manager of Times Square Suites Hotel offered their vacant space for the exhibit. When asked why Times Square Suites wanted to participate, Jacqui had a lot of positive things to say. "Our business is rooted in the community, and this was an opportunity to make the West End as interesting as possible," Jacqui noted. "WE Arts took all responsibility for the liability and it was as if someone had staged the space for us.  It was good for business, good for the community and good for the artists. I would highly recommend A Pop-Up Gallery for anyone with vacant retail space for rent".
–Janet Leduc, Kinexus Consulting, Community Journalist and West End Resident. Images courtesy of We Arts and Janet Leduc.