EEEKCelebrating Community Culture at Car Free West End
It's almost here! The 2015 Car Free Day West End returns to Denman Street on Saturday, June 20. Now in its eighth consecutive year, Car Free Day invites West Enders out into the streets to celebrate our beautiful community and the things we love about it.
Launched in 2008, Car Free Vancouver Day was created out of the need to explore different ideas around "car-free" urban living. The event was inspired by a number of car-free street festivals held on Commercial Drive between 2005-07. The vision of Car Free Day's organizers is to renew community culture with reclaimed public spaces, and to share local knowledge and resources while encouraging better environmental policies.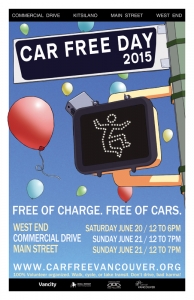 Currently, Car Free Vancouver Day is celebrated in four neighbourhoods throughout the city: Kitsilano, Main Street, Commercial Drive, and on Denman Street in the West End. Each Festival was envisioned and organized by local community organizers and have their own unique flavour.
Interested in learning more or getting involved? Connect with Car Free West End on Facebook and on Twitter @CarFreeWestEnd and use the hashtags #CFWest and #WeAmaze when tweeting about your Car-Free Day experience.
Watch West End BIA Car Free Day for more details over the coming weeks. We hope to see you June 20!
Photo: La La Boom Boom performing at Car Free Day West End 2014. Photo by Dustin Quasar via Flickr.